Vishal Gupta
Director CA (Australia), CA (India), B.Com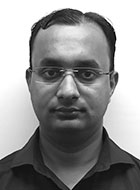 Tax compliance for small to large companies, family enterprises and high net worth individual
Tax consulting (Income Tax, CGT, GST, and 
International Tax)
Trust and family tax planning
Group restructure and tax planning
Management reporting and forecasting
Business Consulting and Succession planning
Qualifications & Memberships
Chartered Accountant, Member of Chartered Accountants Australia and New Zealand
Chartered Accountant, Member of the Institute of Chartered Accountants of India
Vishal joined Bates Cosgrave in 2019 and has over eight years' experience in professional service practices and over six years' experience in commercial role. Over the period of public practice, Vishal has built reputation for his technical knowledge and skills in tax compliance and consulting services.
In his role as Client manager, Vishal works closely with business owners, executives, high net worth individuals, local subsidiaries of foreign companies and businesses with international dealings in various industries to ensure that they meet their compliance obligations in the most efficient way possible. 
Vishal also gets behind the numbers for his clients to ensure they have the right business and tax advice for their business affairs, while also helping businesses to grow and achieve their goals. He also assists clients with management reporting, business forecasting, succession planning, finance strategy, business sale, and mergers & acquisition activities.
contact details
Ground Floor, 123 Walker Street, North Sydney NSW 2060